April 22, 2023 – Update
I stated in my last update that I would like to try to make them more frequently. That has not occurred. Nevertheless…
This summer I have tattooed for 30 years. It's a crazy milestone to think about. They say you're only as old as you feel. Boy… Some days I'm really feeling it. But life in Pamplona is good. The shop is quite slow. The pandemic really didn't help with that at all. But I work on the road quite a bit and enjoy traveling back to see friends and clients in Sweden, the USA, and the few other places I still make it back to. Administrative duties at the shop keep me pretty busy, but I still find time for painting and practicing piano pretty frequently. Aside from making music, art, and tattoos, my wife and I are in the 6th year of our marriage and awaiting a baby daughter, who ought to be born in the coming October. It's an exciting time and I look forward to this new chapter in our lives. Until next time…
August 31, 2019 – Update
Wow… I do not update this very often, but here is goes. The last time I wrote I had quite recently moved to Gothenburg, Sweden. I lived there for nearly 7 years; long enough that I am a Swedish citizen, holding dual citizenship in Sweden and the USA. I also met and married my beautiful wife while in Gothenburg. I worked in 4 shops and they were all great experiences. But finally the cold winters and the frequency that summer simply didn't occur weighed on me. Just about one year ago my wife found a position in her field, molecular biology, in Pamplona, Spain and we decided to make the move. I decided it was finally time, after 25 years tattooing, to open my own place. Getting through the paperwork and process of opening my first shop was definitely a challenge, more so because my Spanish, which was never great, was seven-years-rusty. But after about 5 months here, I managed to open the doors of Rain Dogs Tattoo. It is an art gallery, in addition to a tattoo studio. The place came out beautifully and I am deeply satisfied with the studio I've created, and the role I've taken in mentoring a bit the 2 artists I have working with me here.
That's about where I'm at now. I will try to get the next update in a more timely fashion.
March 11, 2013 – Update
I left Seattle in 2007 to go work in Europe and see the world. After a short (4 months) stay in Thailand where i was primarily oil painting, I moved to Barcelona. I wonder now why I would choose to do that when I didn't speak any Spanish. I seem to remember thinking, "I will learn better submersed in the language and the culture." I will tell you, that was difficult! Eventually I did learn to speak, at least well enough to get by. Mostly Barcelona functioned as a home base for me. I stayed there 5 years and didn't find much work for myself there, though I did enjoy the lifestyle.
I did most of my work as a guest in other shops all around Europe, which was an amazing experience. To name a few; I worked in Milan, Berlin several times in Tatau Obscur, in Tournai, Belgium in Lost Highway Tattoo and Boucherie Moderne in Brussels, Alpha Tattoo in Hattingen, Germany, Tattoos.no in Alesund, Norway and Lucky 7 in Oslo, Norway, Individual Ink in Turku, Finland, Art Corpus in Paris, France, and in Gothenburg, Sweden I worked in Heidi Hay Tattoo, where I eventually moved.
In addition to guest spots I do between 7 and 15 conventions a year all around Europe. Those have been amazing! It's a great chance to get to see new cities as well as see many of my tattooer buddies that I only see at conventions. Additionally, conventions are a great chance to see what other artists are doing and how they do it. It is a chance for us to influence each other and learn from one another.
After 5 years in Barcelona the constant travel got to be a bit much and I chose to move to a place where I wouldn't have to travel quite so much (I love to travel, but with no rest or option, after a while it got difficult). So now I can be found in Gothenburg, Sweden at Heidi Hay Tattoo. It's a great and very professional shop where I have the privilege of working with a great and talented team of artists.
The following is my original bio for the page. It had just become a bit outdated:
I've been artistically inclined since my childhood. Though there was a time when I believed my path would go another direction, I was fortunate to begin tattooing at 19 years old, about the same time I purchased my first motorcycle; some things were just meant to be. College was not to my liking. Unchallenged and disappointed I took out one last college loan and bought tattoo gear in 1993. I never sought an apprenticeship, instead taking the much slower route of teaching myself. For the first few years I worked other jobs and tattooed on the side.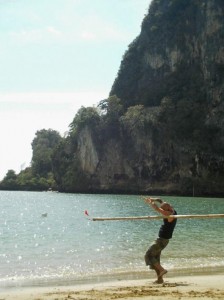 In 1996 Minnesota was no longer to my liking (70 below zero just gets old). I packed tattoo gear, camping gear, clothes, tools, and my guitar onto my motorcycle and wound my way through the highways of western America until I found myself in Olympia, WA. Two months there and I settled in Seattle. I tattooed outside of shops for my first four years or so, supplementing my income with construction and house-painting jobs. During this period I made many trips by train, Greyhound, and motorcycle back to tattoo all over the Midwest; many amazing journeys, many amazing stories! It was on some of these trips that for my first time I worked in shops owned by friends. In Minneapolis was the Crows Claw Tattoo, owned by Sarah Ruehmann, a dear friend of mine. I worked a few short stints there and in Mankato, MN at Cactus Tattoo, owned by another good friend, Megan Hoogland, gaining some of my first shop experience and meeting lifelong friends (among those is an amazing artist named David Heskin… Check my 'links'). I attribute one unusual aspect of my work to these first years of tattooing outside of shops.
Having no access to transfer machines, ALL work had to be drawn freehand on-skin. Whether it was symmetrical, celtic, lettering, or reproduction, there was no option to transfer and trace, the industry standard. To this day I freehand almost all of my work, and have developed a strong aspect of flowing with the body in the pieces I do. My first job at a tattoo shop was in Skin Print Tattoo. Working in locations in Renton, Seattle, and Tacoma, I got my first regular experience in a street shop. After just under a year there, I quit, opting to spend some more time traveling and tattooing on the road, something I still love. About a year later, in 1998 I applied for an opening at Greenlake Tattoo (Seattle, WA). It was there I worked with Al D and learned blood borne pathogens from him. I also worked with an amazing crew of tattooists including Gilbert Jumping Eagle, Benjamin Moss, and Majenta, who would be longtime friends and Gilbert and Benjamin later, coworkers again.
After one year at Greenlake I moved to Laughing Buddha Tattoo (Capital Hill, Seattle, WA). I worked there for 3 years, most of that time again with one of my best friends and strongest artistic influences, David Heskin. It was a good shop and I stayed busy, mostly with interesting work. In the end I sought a less of a street shop and more travel. That brought me to Apocalypse Tattoo, a world-class shop with a diverse and very talented crew. There had the privilege of working with some of the most amazing artists I've ever known. From Apocalypse I also began working first the national tattoo convention circuit, then the international. In the last couple of years I've traveled to Europe many times for tattoo conventions, along with Southeast Asia for exploration. I am in the process of picking up and relocating overseas.
I will be traveling and working, first to Thailand, then to Barcelona, Spain. I am very excited! Please keep an eye on this site to know where I can be found and when I will be in your neighborhood.